Into the Wild
New Episode 7: "This Is Halloween" is finally ready!
---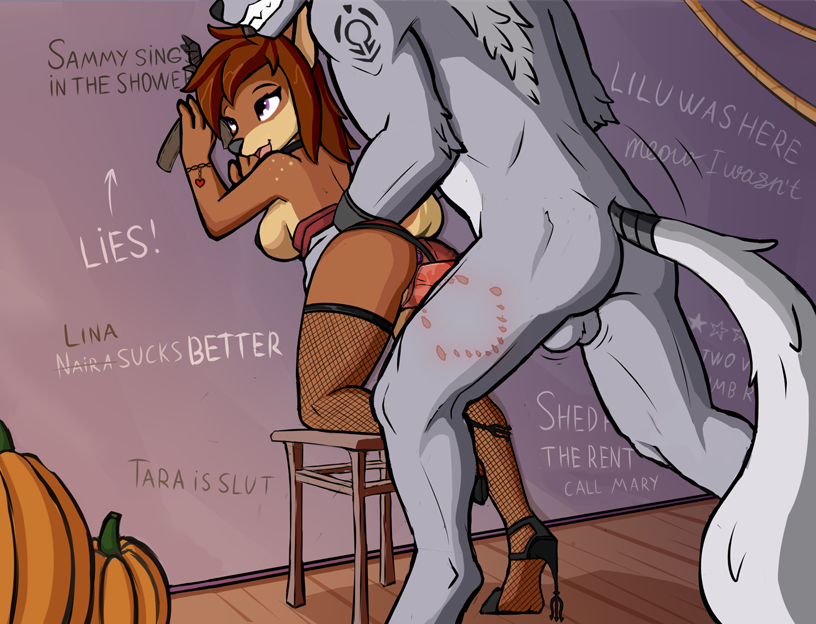 And finally, it's Halloween!
I'd like to return in time to October now - a half year ago we just happily lived our lives not knowing that in a few months our city and country will be on fire. We had to finish this episode hiding from the bombs, and I have to say some were pretty close. Fortunately, our brave army has stopped bloodthirsty invaders, saving our lives and allowing us to finish this episode for you. We're very grateful to all of you who stayed with us in these desperate times, and we have to say that income from Patreon has literally saved our families as all the jobs we had are now closed.
We put a lot of effort and time into this episode, making it the biggest in content and the most filled with details. This is the second bonus episode after Christmas Special, and just like the previous one, it has its unique location, horror film parody style, its own complete scenario, and a lot of fun. Moreover, in this episode, we've tried many new ideas and improvements we have in mind before adding them to the main game. Also, we decided to release this episode as a part of the main game to make it comfier for the player.
So what we've prepared for you:
A new big location! The events of the new episode will take place in an all-new "Halloween fair" location! It consists of a main open location with numerous mini-events, secrets, a lot of characters, and four new indoor locations.
Playing for a girl! In this event, you'll be playing for the first time for Naira and Lina, including both dialogues and scenes!
Four quests! Aside from a ton of texts and cutscenes, this episode has four quests you'll have to complete to win the contest - obviously, each girl will do it in her style.
Two huge scenes for Naira and Lina! The scenes keep getting bigger and better! The first scene will have a record of over 7500 words and have two parts, while the second one will consist of two separate scenes at once! Options are coming too, have fun.
Adding furry guys to the game! Our first steps in direction of adding male characters and thus a new type of scene: furry guy-furry girl - written on the girl's behalf! Check the design of furry guys and animalistic dicks…
First improved style scene! In a year we got a lot of feedback and gathered many ideas on how the existing game style can be improved without losing the charm. Together with the Board, we made one scene and one portrait in an upgraded art style for Lina, so you can see our improvement since the project started and find out how all the scenes in the game will look soon!
New comic style teaser! We tried a new style of teasers as well, making it in comics style.
Lina remastered! We made an all-new portrait for Lina, making the first game portrait in our improved art style. Includes classic dress, nude, Halloween costume, and a set of emotions.
Six new costumes! All in Halloween thematic.
Minor characters! In this episode, we added numerous minor NPCs to Halloween and the village locations. Now both look much more alive, moreover soon you'll be able to commission your own characters to add them to the game!
Grammar fixes! Together with our Patreon followers, we reviewed the first half of the texts in the game, getting rid of a ton of grammar mistakes. The second half will be reviewed in the next episode.
PS: this episode had the biggest amount of work we ever did, so we could miss some minor bugs and typos. If you see any, feel free to share screenshots, and we fix them ASAP.
Files
Episodes 1-7: This Is Halloween!
148 MB
Apr 06, 2022
Episodes 1-7: This Is Halloween!
213 MB
Apr 06, 2022