Into the Wild
Episode 6: Summertime Madness is now FREE!
---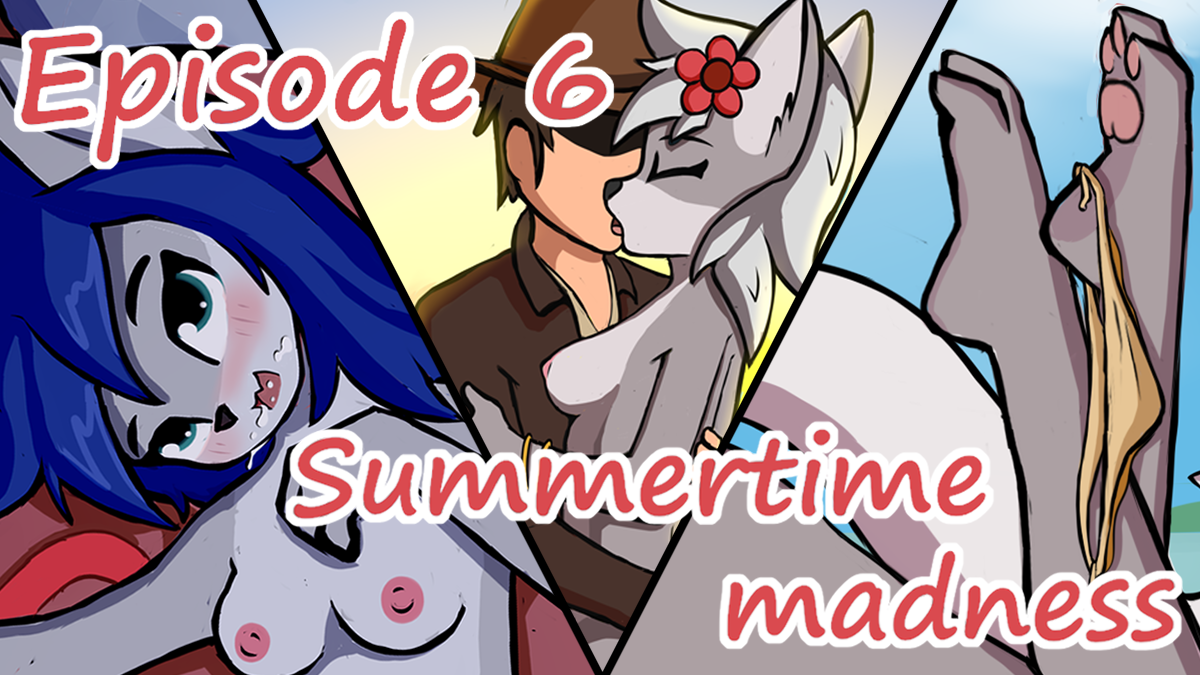 …And new episode 7 is now available for early access!
The best episode we ever did with our first awesome animation, a very beautiful date with Naira, a good little kitty, and a lot of game improvements! Even the saves from previous episodes are working.
What's inside:
Our first animated scene!
2 new big scenes
Beautiful kissing teaser
2 new costumes
Saves compatibility
New interior location
Lilu's naivety
Naira's sarcasm
A lot of quest improvements
The full description comes below:
Wer wartet mit Besonnenheit Der wird belohnt zur rechten Zeit
It took a while. It took a shit ton of whiles. We remade it a few times, we put in it damn many efforts and we did the best we could.
Our dream of making the animation wasn't affordable at the beginning and it's still hard now. But we decided not to just make the animation, but make the animation we can be proud of. During all that time we completely remade it several times, and one short animation turned into the whole animated scene with an awesome cum finish. Moreover, during that time we gathered enough money to afford everything we planned and the result is in front of you.
We're grateful to all our supporters on Patreon that believed in us for all these four months that the work took. You made the dream real. Now go and bang Naira and Lilu for all those months of wait - you deserved it.
So what did we do for so long:
Our first animation! As was mentioned above, one short animation turned into a 5 step series. We made it frame-based (good old Looney Tunes style) and took into account all moves of the actors, including minor and unrelated to sex - everything to make it look alive. Especially passionate is the cum animation.
The date with Naira! We know you love this cutie, and how can anyone not? You finally can take the girl on a date, enjoy spending time with her, and then spend time inside her. This date will be harder and longer than Tara's one and requires you to know good the girl's character. Moreover, her answers can depend on your actions, so you can start chatting about your adventures and finish by making her wet with dirty talk. Over 10 new emotions and poses are coming, as well as 11 date endings.
Two new nicely done scenes! You can compare the quality of these with the scenes in the first episodes and see how the quality has changed - and we aren't going to stop. The next scenes will be even cooler and have even more fun settings and fetishes.
Saves! Finally the saves from previous Episode 5 (both Windows and Android) are compatible with the current build. In case you lost it, the EXE version has attached a save file straight to the new content.
The date teaser! To make the dates more entertaining, we decided to add beautiful one-frame teasers before the scenes. The first is here for Naira, and we plan to add another one for Tara. With them, the dates look much more romantic and passionate.
A lot of technical improvements! There were a lot of annoying bugs and quest imbalance that you reported and asked to change - we did just that. Stars for Lilu and Mary, Less time spent on catching fish quest and random fish amount, cool time skip at the bonfire, a few improvements to the quests, logical changes (like you can't read the plate at the night), and a few fun mini-events like when you come to Naira with an ax. And also we fixed all the bugs that were found during the time.
Two new costumes! Naira got two beautiful swimming suits for the date, that are available all across the event: portrait, the date, teaser, and the scene. Of course, you can try both.
Two new fun quests! Pretty cute, not too hard, and based on a girl's character. If you got stuck, refer to the Quest log - we updated it as well.
New location! Lilu's home. One more little house in the village just got the interior, but it's another step toward our goal to make an inside option for all the houses in the village.
And by the way... Both scenes and the date were for the first time made together with the Board of Directors. Together we not only gathered a lot of interesting ideas for the drawing but also improved on the things like the setting, background, and costumes.
PS: The Board plate is really overfilled with the handmade names of our most loyal supporters. So many people trusted in us and subscribed to the highest tier and that makes us proud.
Files
Episodes 1-6: Summertime Madness
178 MB
Apr 06, 2022
Episodes 1-6: Summertime Madness
117 MB
Apr 06, 2022
Comments
Log in with itch.io to leave a comment.
Where is the sun cream, I searched everywhere
I've last played episode 5. How do I carry over my old save to episode 6 and 7?
For exe copy save folder from the old version. For Android just instal new version, it'll update the existing one keeping the saves
can you play old saves on new version, or you need to replay everything to the moment where you build a house?